Tribute to the 80's and 90's
Big Mouthers concert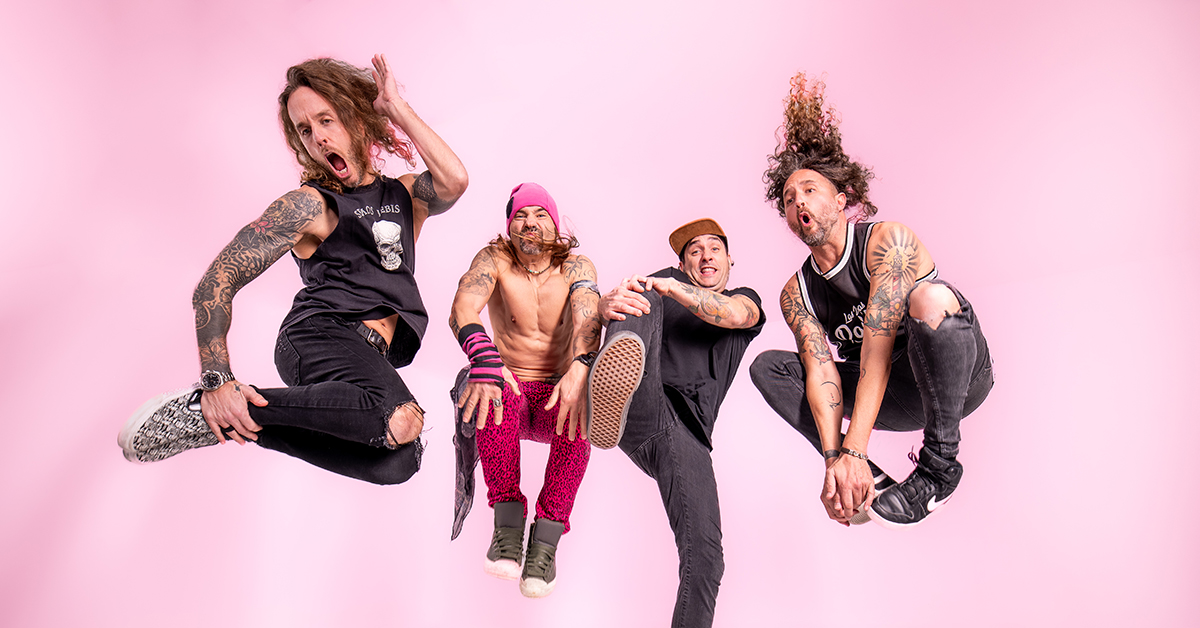 Sunday 16 of July at 19:30h Free entrance - No reservation required

The music of the 80s and 90s never goes out of style and for this reason, Big Mouthers will perform with the liveliest versions of the hits of the time.

Big Mouthers is considered, according to the specialized press, as the most prestigious and contracted version band in the city of Barcelona.

More than 2,000 concerts performed, approximately 200 performances per year, as well as multiple residences as a permanent band in the most prestigious venues in Barcelona, ​​such as Luz de Gas, endorse the professionalism, quality, seriousness and commitment of these four musicians.

A show gestated from a very studied formula to create a dynamic and energetic session that keeps the show and the public in a constant festive atmosphere.
You may also like
Giveaways and promotions
In addition to having an incredible experience during the Summer Festival, you can win a €100 card and prizes from Bob Boutique and Bravo. We tell you how to participate!...
Array
Children's Musical Concert
The singer Celia del Barco, accompanied by the pianist David Sam, will take us on a tour of the best children's films, covering their great songs for piano and voice. The Lion King, Aladdin, Frozen... and many more.
Children's activities
A complete family plan! While you prepare for children's Fridays (music or magic show), children can have fun with the following activations of the center's brands...
Array
Ptazeta
Ptazeta, one of the most viral artists of the moment, brings urban music to Diagonal Mar to dance to the rhythm of trap and other musical genres. It was in 2020 when she rose to fame with the release of her single "Mami".
Beauty corner
Festival mood ON! We have everything prepared so that you do not miss a detail and get ready for the concerts. The brands of the center have prepared the following special and free services for you...
Array
Masterclass de baile by Santissmx
Sheila OG together with Santissimx offer us a Female Dancehall workshop for all ages, where you can enjoy and explore movements with your body that you thought...
PODCAST¿Quieres ser mi amigo?
Podcasts are so trendy and that's why they could not be missing at the Summer Festival. We will listen to Mario Marzo (actor and pianist) and Dane (podcaster) with their live podcast "¿Quieres ser mi amigo?". Two strangers try to make friends...
Outdoor cinemaE.T. (1982)
A small alien is left stranded on Earth when his ship forgets about him on its return trip. He is all alone and scared, but he befriends little Elliot, who hides him in his house...
Outdoor cinemaTop Gun (1986)
The United States Navy has created an elite school for pilots in order to bring out a class of experts in combat techniques. At the academy, better known as Top Gun, the best are trained to be intrepid and cold at the same time...
Outdoor cinemaJurassic Park (1993)
Billionaire John Hammond realizes his dream of cloning Jurassic dinosaurs and creating an island theme park with them. Before opening the park to the general public, Hammond invites a couple of scientists...
Outdoor cinemaGrease (1978)
Summer 1959. Sandy (Olivia Newton John) and Danny (John Travolta) have spent a romantic and wonderful summer together, but when the holidays end, they go their separate ways...
Cartonutti Magician: RRR's Show
Cartonutti arrives with a show full of experiments carried out with extraordinary materials that arouse the astonishment and curiosity of all audiences. If magic is transformation and science is explanation, in the Cartonutti...
Sofia Ellar
A intimate Saturday pop / indie concert with Sofia Ellar, whom you will surely know. Between jumps and somersaults we will be part of the "Free Tour". The Sofia Ellar project arose as a result of a final degree project and has achieved great success on...
DJ Julia Richie for Wild Sabine
Wild Sabine features DJ Julia Richie in a wild and fun music session. A mixture of Funky, Afro and House rhythms with an organic feel that will not leave you indifferent...