Diagonal Mar refurbishment comes to light with a big party on November 22nd
Shows, performances, concerts and many more surprises to welcome the new Diagonal Mar.
On that day, the shops will be open until 11:00 p.m. and most of them will have discounts and special activities.
Diagonal Mar refurbishment comes to light with the opening of fifteen shops and seven new restaurants.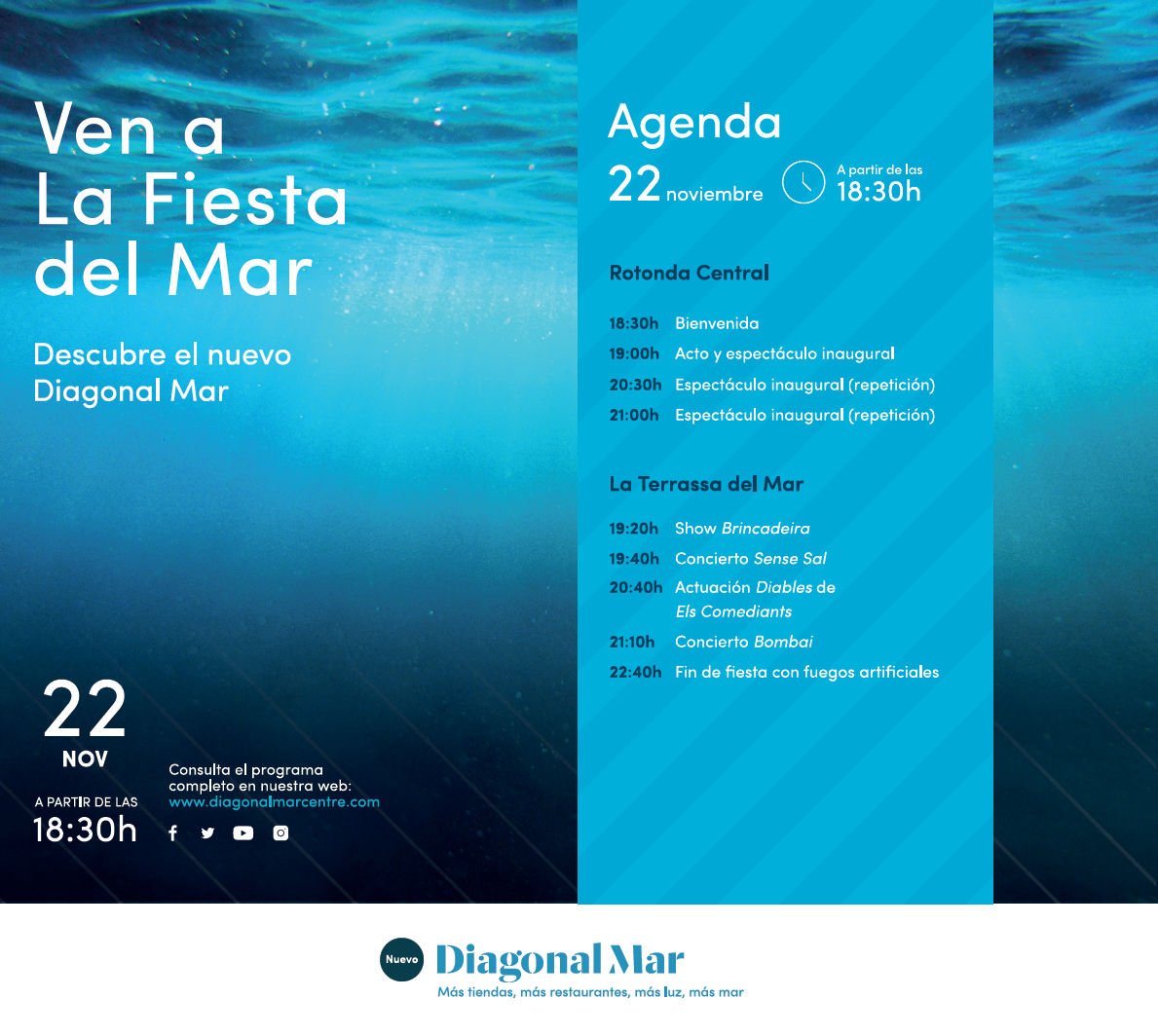 Barcelona, November 20th 2018.
The new Diagonal Mar comes to light on Thursday, November 22, and welcomes the refurbishment that begun in 2017 to adapt to the new trends in the industry and customer needs. The shopping centre, owned by a public fund of DWS and managed by CBRE, first international consulting and real estate services company, will celebrate the end of the refurbishment with a free party for all visitors and will extend its opening hours until 11pm with promotions and special activities of most of the stores.
Starting at 6:30 p.m. the charismatic actors Bruno Oro and Clara Segura will act as masters of ceremony from the beginning of the event. The opening show will be orchestrated by Hansel Cereza, co-founder of La Fura dels Baus and collaborator of Cirque du Soleil. "We will create a feeling of immersion into a world of light and incredible beauty in the depths of the sea, simulating an underwater dive," explains Hansel Cereza. In the show, which will take place in the central roundabout of the shopping centre, light and sound will have a leading role with screens, light projectors and musical compositions, as well as aerial acrobatics. Visitors would be able to enjoy the show in three occasions during the afternoon.
Next, Diagonal Mar will feature the performance of the company Brincadeira, a musical and choreographic show that will take visitors to La Terrassa del Mar. There, the local pop-folk music group, Sense Sal, will set the pace at sunset. Later, the Valencian group Bombai, with influences from genres like pop-rock, alternative music or reggae, will bring their fresh and cheerful rhythm to Diagonal Mar stage. Between both concerts, a Diables show will take place by the theatre troupe Comediants and a pyrotechnic performance will end the event at 11pm.