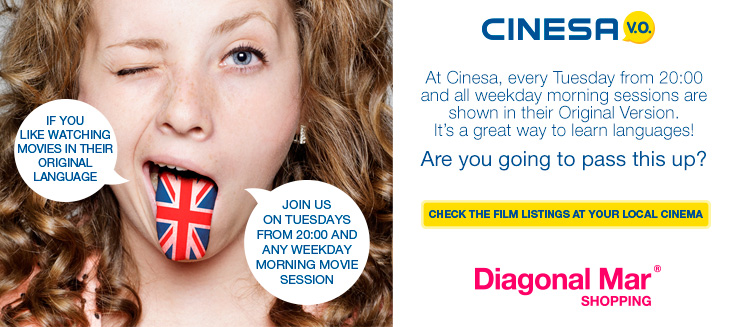 VSO Cinesa
Do you like movies and learn languages? Do you want to do both at same time without leaving Barcelona? Diagonal Mar Shopping makes it easy with sessions in V.O every Tuesday from 8.00 pm and weekend morning sessions (Saturdays and Sundays).
Come and enjoy the best movies learning languages ​​in a different way!
* You can check the timetables and movies of the sessions in original version here
Cinesa Diagonal Mar has 18 cinemas with 3D projection. One of them is the iSens room: a premium room to see, feel and live the cinema in an even more spectacular way, so you can enjoy the best premieres thanks to:
Sound Surrounding: Through Dolby Atmos®, the most advanced sound technology, it surrounds you completely from anywhere in the room.
Extra-large screen: has a screen that extends from wall to wall, both large that seems infinite: it will give you the feeling of immersion to the film.
Projector HD sheet: equipped with a 4k projector with 6,000 vats to enjoy images HD sheet: you will see the movie with maximum definition.
XXL seats: you will be very comfortable with the wider seats, with more space and with Probax® technology system.
More than 17 million viewers and 300 films released a year endorse the commitment to cinema and the management of CINESA, the leading film exhibition in Spain. Currently, it manages more than 500 screens of the Spanish circuit with more than 100,000 seats in facilities that prevail the comfort of the spectator, the personalized service and the quality of image and sound.
Be the first to know about Cinesa's new releases, new trailers, events and promotions by making the Cinesacard loyalty card and following the social networks of Facebook, Twitter, Instagram, Snapchat and Youtube.
Are you going to miss it?